Websites Designed to Impress. Built To Perform
With great search optimization, mobile responsive,
vault-like security and easy-edit content tools,
your business has every opportunity to succeed. 
---
Get a Website That Ranks Well and Looks Good!
Looking Good- Our one-of-a-kind online website design guide makes it as easy as 1…2…3 to get the design that you want. Simply tell us about your business, group, or organization; along with its products or services; and let us know what color, layout, and style you're looking for.One of our web design consultants will contact you to verify and discuss the project before we send you a prototype site design for revision. Once the design has been finalized, we'll build your website to your specifications!
And when we do, we build in three different software suites that enhance your website's performance. And yes, we have had many websites that have reached page 1 of Google with just the SEO that comes with the site!
Our Websites are the Very Latest In Mobile Responsive
We build our websites with the latest generation of mobile responsive software. You website will look good on ANY device. 
---
Be comfortably in control of your Website
You don't need to have an in-house tech team to create and edit the content of your website. Using a built-in, Microsoft Word-like text editor, you can write what you want—and format it—in seconds. Want to insert an image or link within a page of your website? No problem! The text editor makes the process a snap, leaving you with a beautiful looking page full of your content.
Pages that You Can Easily Edit
With built-in, easy-to-use image support for your content, you'll have a blast showing off your products and services. Simply click, upload, and insert your images directly into a page. Show off your business in style!
We have your back with strong Support
With a wide range of basic tutorials available on our website, a unique online support system, and a wiki built from your questions, our team is ready to help you with maintaining your website should you ever need it.
Spam-free is the way to be.
Each website that we build comes equipped with the latest and greatest security plugins available, so you won't have to worry about Bob B. Spammer trying to mess with your stuff!
Expansion-Ready, Forward Compatible
We're proud to say that our sites truly are flexible and prepared to grow with your business. With an expansion-ready site, your business is covered if there are features that you want to add to your site down the road. With anything from image sliders, galleries, e-Commerce systems, membership capability, and on, chances are good that if you want a feature—we can do it.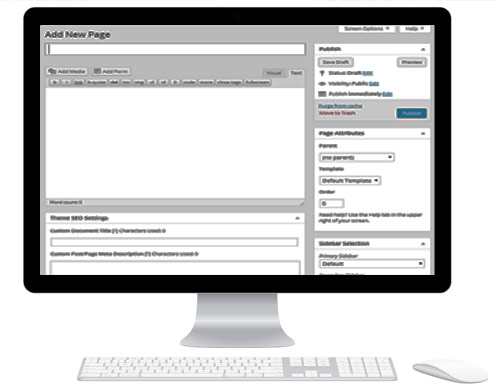 Connect with your Customers
Easily get the customer information that you need from your website with customizable contact forms. These forms are built into your site and retain the customer information permanently. Contacting you has never been more convenient for customers, and you'll get a handy email notifying you that a new submission has been made.
Disaster Recovery- with regular Website Backups
Part of designing your website is including backup software. Because your website is being backed up, if a disaster strikes, we can recover the missing data. Think of this as an electronic superhero that can restore you website in under 30 minutes.
Learn More About Our Website Services…
Website Design  |  Features  |  Testimonials  |  Gallery  |  Get a Quote