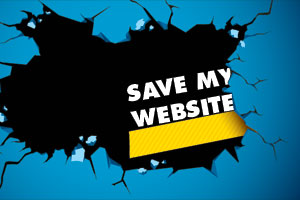 San Antonio Website Designer Wayne Baumgarten reveals the worst flops and blunders that you can make when working out the design for your website.
1. Never Use Flash Animations (ipad and iphone can't read them). Moving images and graphics on a website can be very attractive. However the main tool used to create this kind of design element has been a program from Adobe called "Flash". This program is specifically designed to create animations for web, and was for a long time very popular. Even entire websites can be created using Flash. The problem is all about power. Flash animations drag lots of power, and so Steve Jobs made the decision that iphone and ipad would not read website content that was built using flash. If you have a website that is either entirely built in flash ipad and iphone users will not see a website, but rather a grey blob on the screen. Same for a website design that incorporates elements built from Flash- those elements show only as grey blobs. That is not to say you have to have a static website design with nothing in motion. There are several other ways to create attractive animations on your website. Ask your website designer if your website will be using flash graphics.
2.  No Call To Action (so visitors like the site but never do anything). Take a look at your website design. Is there a button to click to sign up for something? Is it visible and prominent? What about your phone number? Is that very clearly presented? Or is it in the fine print at the bottom of the page?    You can find more information on this important subject in our article on Website Design Basics.
3. Generic Content Written by a Copywriter. (Sounds fakey and false). If you are paying good money for a new website then take an hour of two and sit down and write about yourself and what you do. Nothing can replace the words of the real person writing about what they really do.
4. Small with Limited Content. To create a web page with a lot of written content costs about the same as a page with very little content. Provide your website designer with a lot of content- long pages, with full descriptions of what you do and how it works. Throw in a few extra pages with tips and ideas that come from your experience and training in your field. Small websites with little information have little impact. 
5. Not Listed with Google and Bing. It is quite easy to register a website with google, bing and yahoo- which covers over 90% of all search traffic. Make sure your website designer does so! Otherwise your website may never show up in any search and lose a lot of its potential value. Also signing up for google maps (now called google places)  is a very simple process. You can do that yourself and it will help your business and your website.
If you are interested an updated website design, contact us for a free, no-obligation  analysis and quote.  Also check out a small sampling of our many happy customers in our San Antonio website design gallery.