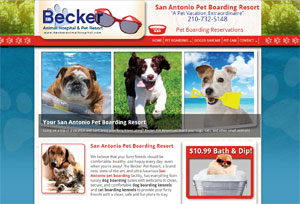 Your veterinary website is an important part of your veterinary marketing strategy. Most major cities get 200 searches a day for "find a veterinarian".
Right now, a lot of people are looking for your services.
Top Four Factors for Your Veterinary Website
You Must Have Your Phone Number Very Visible:  The impulse to call your vet clinic as a result of seeing your website is very fleeting. A person thinks "maybe I should call this vet" and a moment later the thought is gone and they are moving on to another website. Having your phone number very visible on your website is extremely important.
You Must Display Your Address in a Prominent Position: It is a fact that your clients mostly exist in a 5 mile radius of your vet practice. This is normal for all urban vet practices. Having your address very visibly displayed allows a person to mentally calculate distance and make the decision to travel to your location. Visitors to websites do not like to hunt around for information. The visitor is using the internet because they want fast and they want easy. Your website must accommodate this.
Your Site Must Have Your Photo:  People use vets that they can connect to. Having your photograph on your website is very important and helps potential clients connect to you.
Put Testimonials On Your Website: A huge factor for vet's (and other health providers) is trust. From glancing at your website the potential client, who has never met you, must decide if he or she is going to hike all the way to your vet practice and trust you with his or her pet. Testimonials help people to make this decision. Before and After photos of pets can also be very effective.
Having built scores of websites for health professionals and seen the anayltics for many hundreds of thousands of visits, it is very clear that trust is an important issue for people who come to a veterinary website for the first time. They are going to place their pet in your hands and want to have confidence that you will do a good job.
This trust is established through
Your personal page, which should have a good photograph of you and some personal information as well as your bio and qualifications.
A page that has testimonials and reviews. 
A page that has before and after stories
And interestingly enough, when it comes to veterinary website traffic, these pages are very heavily visited by people who are coming for their first visit. Your existing clients know you and you have had an opportunity to build trust. New clients have not met you and must judge your through your on line reviews in Google and Yelp and other such review sources and also right there on your own website where they get to find out about you for the first time. 
 To find out more about creating a great veterinary website, contact us for a free consultation!